It's Pride Month and as a queer-owned and operated business, we wanted to put together a list of all the best LGBTQIA+ board games and game creators out there! What better way to celebrate Pride Month, right?
Well – being completely transparent here – we discovered during our research that that's easier said than done.
To our disappointment, we found LGBTQIA+ theming in board games and RPGs is lacking at best. Additionally, we noticed representation of creators, designers, and publishers identifying as LGBTQIA+ is either underrepresented or not well documented (probably a little of both).
For perspective, a recently-released Gallup survey found that more than 7% of all adults in the U.S. identify as lesbian, gay, bisexual, transgender or something other than heterosexual. Breaking those results down even further shows more than 10% of Millennials and over 20% of Gen Z individuals self-identify as something other than heterosexual.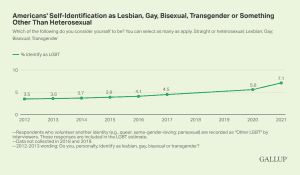 If the U.S. gaming industry were truly representative of the wider population we should have no trouble finding a plethora of LGBTQIA+ game creators, game themes, and game characters.
In fact, we came to a similar conclusion while researching the representation of women in the gaming industry. As we said in that article and want to reiterate now, we believe increasing the diversity in gaming is critical and we encourage supporting diverse voices in all aspects of the community (for more on that, scroll down).
That said, let's get back to the whole reason we wrote this in the first place – to highlight those LGBTQIA+ games and creators that do exist!
LGBTQIA+ Creators
Simeon Cogswell
Simeon Cogswell (they/them) is a creator, graphic designer, and layout artist. They have worked on various RPG titles including Delta Green and RuneQuest: Roleplaying in Glorantha, as well as board games including Who Should We Eat and Chiyo's Secret.
Matt Fantastic
Matt Fantastic is a gaming guru. Not only are they a game designer and developer, but they're also an indie publisher, teacher, and owner of two businesses including Forever Stoked Creative and Elm City Games. On top of that, they run the New Haven Game Makers Guild. Notable projects include last month's fully-funded Kickstarter Dumpster Fire Party and the cooperative 3D building game Team3.
AnnaMaria Jackson-Phelps
AnnaMaria Jackson-Phelps (she/her) is a designer whose most recent game, Synchronized – a synchronized swimming memorization card game, wrapped a successful Kickstarter in March.
Carla Kopp & Weird Giraffe Games
Carla Kopp (she/her) is a game designer, developer, and publisher. She is the brains behind Weird Giraffe Games. Titles include the recently successful Kickstarter Way Too Many Cats and the set collecting game about dream engineering called Dreams of Tomorrow.
Behrooz 'Bez' Shahriari
Behrooz 'Bez' Shahriari (she/her) is another uber-talented creator boasting credentials such as designer, developer, artist, consultant, and self-publisher to name a few. Some of her most popular titles include Yogi and Kitty Cataclysm. She also created the ELL deck game design system and helps with development for Alley Cat Games.
Nikki Valens
Nikki Valens (they/them or she/her) is a game designer with some extremely well-known titles in their repertoire including Mansions of Madness, Eldritch Horror, Arkham Horror, Legacy of Dragonholt, and Quirky Circuits to name a few. One of their most recent projects is the fully-funded Kickstarter Artisans of the Splendent Vale. They also regularly stream on Twitch if you want to tune in!
Isaac Vega & Rose Gauntlet Entertainment
Isaac Vega (he/him) is a game creator with 9 designs and more than 500,000 copies sold according to the website for Rose Gauntlet Entertainment – the game company he runs with Lindsey Rode. His newest project, Keystone: North America – a tile-placement game about building successful ecosystems – is currently in the shipping stage after a successful Kickstarter campaign.
LGBTQIA+-Themed Games
Specifically described as "written by LGBTQ+ people, for LGBTQ+ people," this queer-themed party game in the style of Cards Against Humanity is fun for groups of all sizes. Better yet, there are a TON of expansions and multiple versions (like this Jenga-style game) that will keep the fun going forever.

Though not specifically or exclusively queer-themed, Fog of Love – a role-playing, bluffing, card game for two players acting as characters who meet and fall in love – can work to include various types of relationships. Even with same-sex couple rules and alternate boxes featuring same-sex couple silhouettes, it can falter at points as some point out.

Again, not exclusively LGBTQIA+-themed, but designed specifically in a way that doesn't limit your choices and options as you take to the dance floor to try to impress your preferred dance partner. Own the room in this inclusive fun, strategic, turn-based game.

This one-page, role-playing game is a hack of the popular RPG Honey Heist. Written for Pride Month back in 2018, the goal is simple: pull off heists while balancing the pull of crushing on your fellow partner(s) in crime. It's free to download but recommends making a donation to an LGBTQIA+ non-profit.

Let's Make the Community More Diverse
As we mentioned above, there's still a lot of room for improvement when it comes to making the gaming industry and community a more diverse and inclusive space. The last few years have brought major improvements, but there's still a long way to go.

From race to gender, to sexuality, and more, many aspects found in the communities we live in are underrepresented in the games we play or by the creators who make them. And we can all help to make that happen!
How? The easiest way is by supporting the creators and their creations that are adding to the diversity of the community. Whether it's following them on social media or purchasing one of their products, that support allows them to continue to create while showing publishers and decision-makers that there is a desire for diverse work.
Here at The Rook Room, we're dedicated to supporting diverse communities, players, creators, content, and more in any way that we can. Whether it's purchasing, playtesting, creating events, or even sharing someone's stories, we're here for it. In fact, it's an essential part of our mission, vision, and core values. And if you have any ideas or need our help with your projects, reach out – we can't wait to make it happen!
So this Pride Month and every month, we encourage you to go out and help make a difference in making a more diverse and inclusive gaming community! Oh – and while you're doing that, don't forget to support local.
Please note that during our research we did find other games that we felt did not accurately portray the LGBTQIA+ community or leaned into stereotypes that some would find offensive. We have chosen not to include them here.
If you know of any games or creators not on our list that you think we should include, we would love you to reach out and let us know by emailing info@therookroom.com.