Des Moines' Hottest Jigsaw Puzzle Event
For our Puzzlepalooza Classic, teams of four compete to be the first to finish their puzzle. But watch out, because we've included a few surprises along the way including our one-of-a-kind sabotages.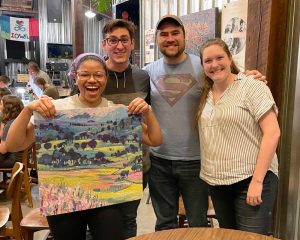 So grab your best puzzling friends, think up a punny team name, and join us as we partner with some of your favorite local venues for a night of fun, jigsaws, food, and drinks.
What's even better than that? Prizes!
Not only do our Puzzlepalooza champs get bragging rights, but they also snag a sweet prize package and an invite to come back and defend their champion status at a future event.
And don't worry if you aren't the first to finish. At The Rook Room's Puzzlepalooza events, every team gets to take home their puzzle at the end of the night – which, really, makes everyone a winner!
We can't wait to see you there, puzzle people!