Deutscher SpielePreis has announced the 2020 award winners for best board games of the year and the co-op, space-themed game The Crew: The Quest for Planet Nine took the top prize.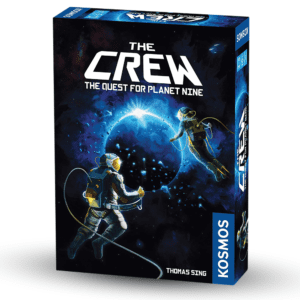 The Crew, from publisher KOSMOS, pushes players toward a common goal, but they win or lose together based on completing individual tasks. The game also won a 2020 Kennerspiel des Jahres award (so it's clearly a pretty solid choice).
This year's other top games, according to Deutscher SpielePreis, include:
2. Cartographers
3. Maracaibo
4. Barrage
5. Cooper Island
6. Glen More II: Chronicles
7. Crystal Palace
8. PARKS
9. Marco Polo II: In the Service of the Khan
10. Paladines of the West Kingdom
The Deutscher SpielePreis began in 1990 and is voted on by players, journalists, game groups, stores, and more. Awards are usually announced at Spiel in Essen, but the 2020 conference was cancelled due to the pandemic.
The Crew and joins other notable fan-favorite games and Deutscher SpielePreis award winners The Settlers of Catan (Catan), Carcassonne, Agricola, Dominion, 7 Wonders, Terraforming Mars, Azul, and, most recently, Wingspan.