This is a question we get asked a lot, so we wanted to take some time to answer it here – not only because we love creating jigsaw puzzles, but we're also pretty proud of the story behind it!
Jigsaw Puzzles As Analog Fun
As you likely already know, The Rook Room is all about analog games and activities as well as bringing people together over a shared love of play through our unique experiences and events.
That's why, not long after we started in 2019 and kicked off our Puzzlepalooza jigsaw puzzle competition events series, we began looking for a great local place to partner with to buy jigsaw puzzles. Support local, right?
Not only did we want to use the jigsaw puzzles for our uber-popular Puzzlepalooza events, but we also wanted to support local artists and small businesses in the process.
Filling the Jigsaw Puzzle Piece Shaped Void
The problem was, we couldn't find any place in the area. We couldn't even find any place in the region! So we decided we might be able to fill that void.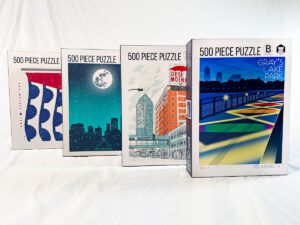 So right as the pandemic began in early 2020, we began vetting jigsaw puzzle manufacturers and approaching potential local artist partners. That's how Bozz Prints became our very first artist partner.

We kicked things off with a series of six, 500-piece jigsaw puzzles featuring Des Moines and Iowa focus artwork created by Bozz.

Thanks to our wonderful customers, we quickly started selling out of our initial stock, allowing us to order more and expand our offerings.
Sharing the Love With Our Jigsaw Puzzle Artist Partners
Our goal with this whole jigsaw puzzle production project has always been to create some awesome, high-quality jigsaw puzzles while expanding the audiences and revenue streams for Des Moines area artists by featuring their work.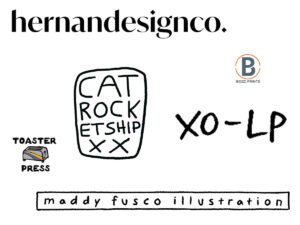 In fact, we share a portion of the profits from every jigsaw puzzle purchased through The Rook Room with our artist partners, so you're actually supporting two local small businesses with each puzzle.

We now work with six different artist partners from around Des Moines and central Iowa including Cat Rocketship, Maddy Fusco Illustration, XO-LP, hernandesignco., Toaster Press, and Bozz Prints. And if we can gush for just a second, they all do some AMAZING work (seriously, go check them out).

As The Rook Room's jigsaw puzzle adventure continues, we're looking to further expand our list of artist partners and puzzle offerings while focusing on working with artists from often more marginalized communities like artists of color, LGBTQ+ artists, and women artists in an effort to help lift up their voices and unique, vital works.
Ok, But Why Jigsaw Puzzles?
So back to that original question: why does The Rook Room create jigsaw puzzles here in the Des Moines area when you can just as easily find them in the big box stores or online retailers?
(Warning: things might get sappy for a second here, but it's truly what we believe)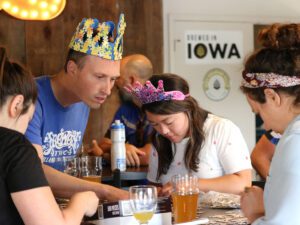 Well, because when Annelise and Tony started The Rook Room they did so because they wanted to help build up their Des Moines community by creating fun, accessible, unique events and experiences that help to spread the importance of shared play. It's part of our mission and core values and we're very serious about both.
Producing jigsaw puzzles that expand the reach and resources of our artist partners while investing in the local economy and creating a product that brings people together in a new, fun, and exciting way fit the mission perfectly. And honestly, we couldn't be prouder.
So we'll keep at it and we sincerely hope you'll continue to love all the new jigsaw puzzles we're creating!
If you want to learn more about our jigsaw puzzles, head over to our jigsaw puzzle page, and don't forget to check out our latest inventory over at our online puzzle shop.